DailyBot allows you to have separate DailyBot organizations that are connected to the same Slack or Google Chat workspace, Microsoft Teams tenant, or Discord server, each DailyBot organization maintaining independent users, data and billing plan.
✂️ When it's the right thing for you
It's directed at more complex setups where there are different privacy or hierarchical concerns between teams, but most importantly billing differences (independent billing).
They're all basically different organizations under a convenient "grid" that makes the distinction between one org and the other so the bot can function properly at all times. You must still create teams, check-ins, and invite users independently inside all of them, and everything will remain isolated.
Users from one organization cannot interact with the users from the other, even though it might appear that it's the same bot. (it's not)
⚓ Introducing: The Organization Grid
The Organization Grid is the extra layer that will allow users, teams, and companies to create and manage multiple organizations in DailyBot, without interference, from a single chat environment.
As companies get more and more complex, managing independent teams can pose a challenge. The Organization Grid is DailyBot's solution for that, allowing your team to work independently while being connected to the same chat platform you know and love.
Organization Grid is a paid feature for Enterprise. Compare plan features and pricing here.
🛠️ How to set it up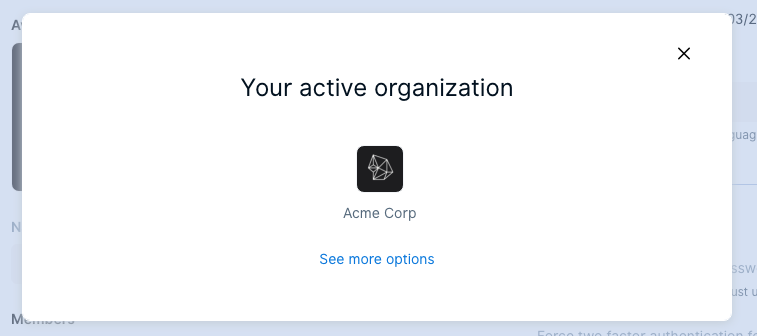 Now you can go to Settings > Change organization > "See more options" to create new organizations (or click here) — users can go to "Settings > Change organization as well to switch from one organization to another, if they participate in multiple ones.

Each independent team/department should create a new DailyBot organization to run autonomously. You have to invite users and configure the check-ins from scratch.
🔍 Context: The new term to keep an eye on
Even though you'll still see one DailyBot in your chat platform, the bot will only understand what you're saying depending on the organization that you have active at the moment.
DailyBot will let you know through the chat each time you switch to a different organization from the web app, so you know from the beginning what kind of commands or information you can retrieve when you use the bot.
Keep in mind that DailyBot will automatically switch to the organization that you have open on the web app in the chat as well.
Type context in a direct chat with the bot to see the organization you're on right now
💬 Chat usage: Same old, same old
Chats are still the same, as usual, that includes the way your information is portrayed, and the way our commands (and yours) work. The only thing you have to notice is the alert message that will indicate the last session you opened. That's how you know what organization you have active right now.

Bot session changed to "Your Company" Organization.

Next steps
We've linked these three introductory articles for you to get accustomed to DailyBot running for multiple organizations at once.
How do I create a new organization from the web app? (See article)
How can I join a new organization from the "Change Organizations" option? (See article)
I don't want people from other teams or departments in my company to join my paid organization (See article)
Need any help? Submit a ticket.