If you want to set up regular checks for managers to gather input from their team members before their 1:1 meetings, keep reading. We're going to use Check-ins to automate this so that each team member gets a check-in reminder before their meeting, and the responses go only to their managers.
1. Log into the web app and go to
Check-ins
in the sidebar. Then, click
Create Check-in
.

2. On this page, you're going to set the questions for your check-in. In "Productivity," you can find our Meeting Prep template that will be perfect for this case, or you can choose to set your own custom questions. In this case, we're going to continue with the template.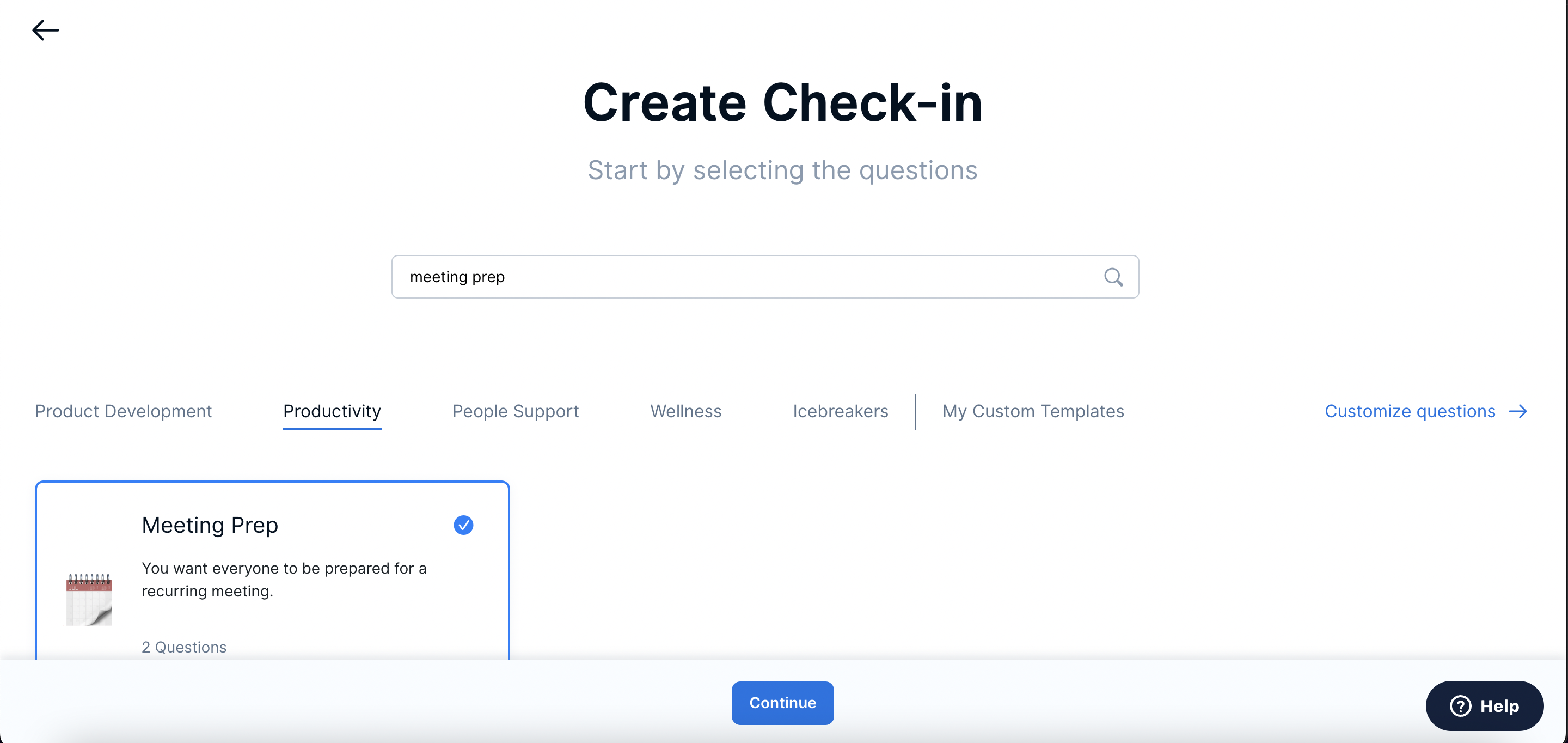 3. Here, select the name and participants for your check-in. You can choose a team if both managers and team members have their own team in DailyBot, or you can choose by individuals. Or both. Whatever works best for your case. Once you're ready with the participants, click Continue.
4. On this page, select the frequency, time, and a number of reminders you'd like your check-in participants to engage with your Meeting Prep. DailyBot will then make sure to remind people at that time of the day, on the selected day, a number of times. For instance, if managers run 1:1 meetings every Mon 9 am, consider setting up your check-in at 8 am on Mondays. DailyBot will remind participants about your check-in one time by default. Consider setting up "additional reminders" to send a couple extra notifications after that.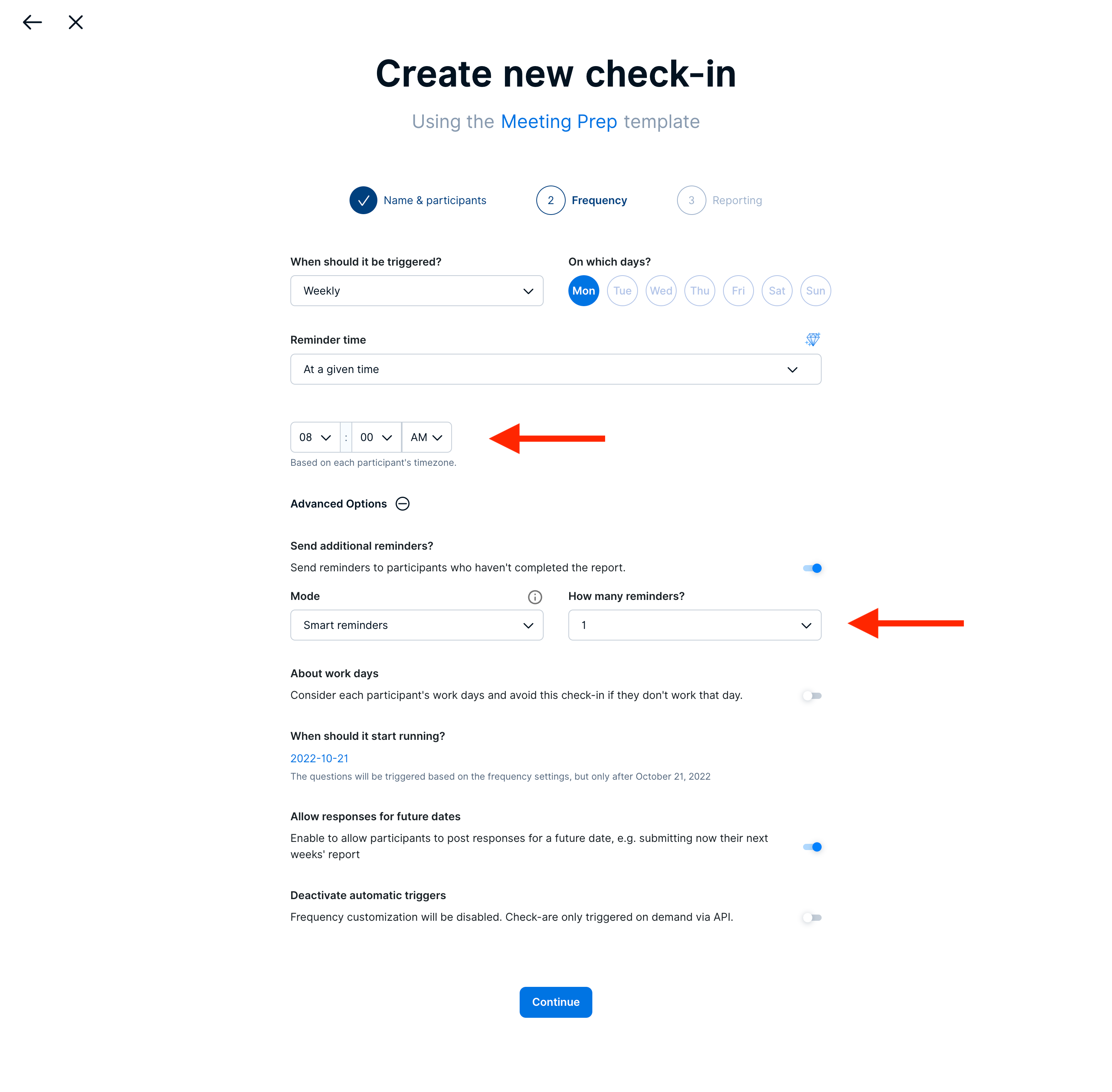 5. In the next tab, you get to set the visibility settings of your check-in as well as the time limit to fill out said check-in. Both options are important for these reasons:
By setting up the visibility of the check-in to "Owner / editors" you guarantee that only you (as check-in creator) and the editors you choose can read the check-in responses. In this case, a good way to handle this is setting up the managers that will participate in the 1:1s as check-in editors. (Note that you can only add editors after your check-in is created. So once you save your check-in the first time, simply go back to "Edit Check-in > Participants" to see a list of editors that you can edit or set.)
Also, if you want to send these responses to someone (said: 1:1 managers), consider creating a private #channel that only you and your 1:1 managers can access. Then, add this channel to your check-in configuration, as seen below.
Time limits are a perfect way to limit the scope of reminders. For instance, if your time limit is 9 am because that's when your 1:1 meeting starts, DailyBot will spread your additional reminders up to that time.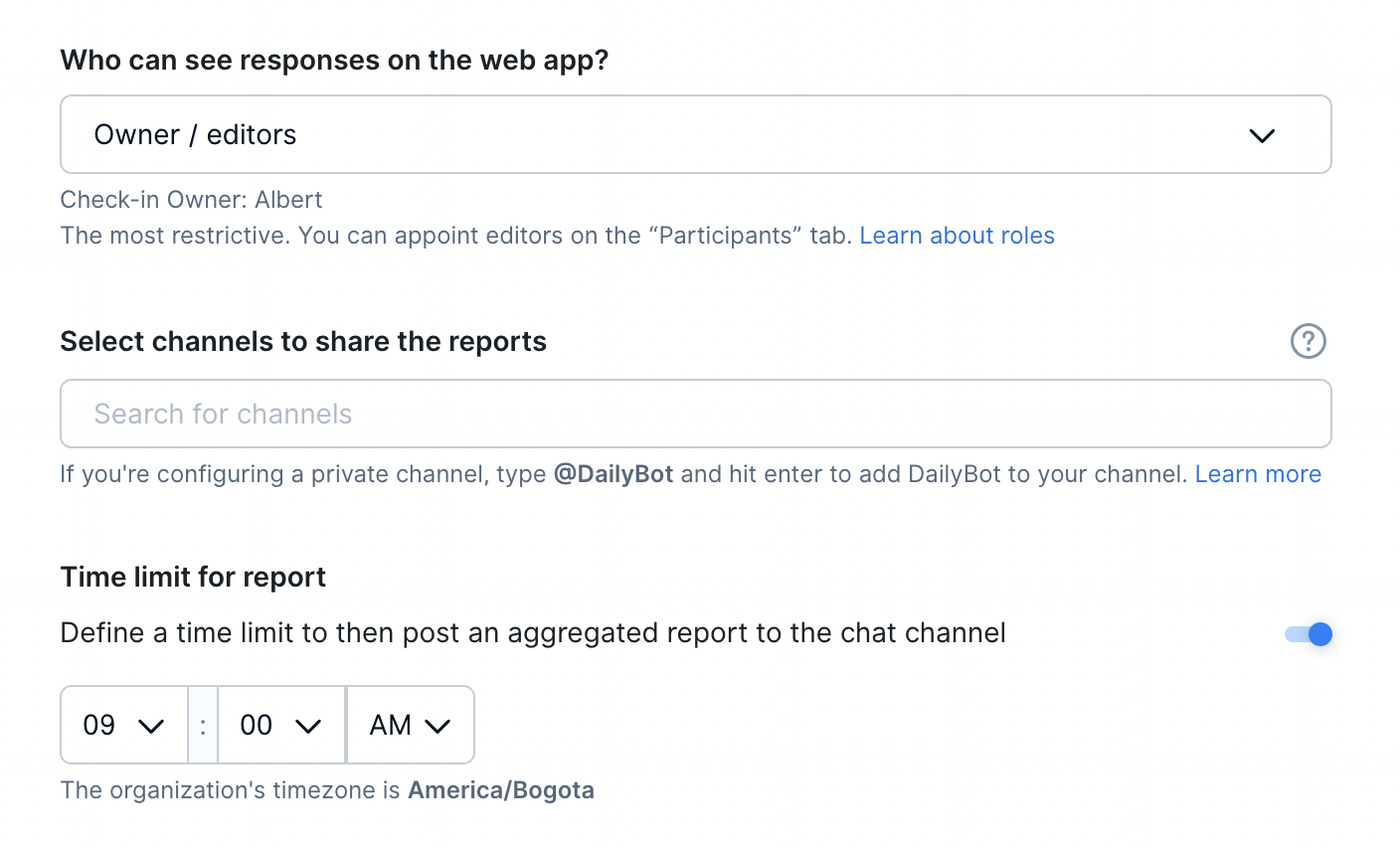 With all of this in mind, you're ready to run your own private Meeting Prep every week! Let your 1:1 managers know. :)
Got any questions? We've got answers. Submit a new request here.